CORDLESS HAND BLENDER KITCHENAID 5KHBBV53BER
Special Price
€139.00
was
€159.00
All the power you expect without the cord. The cordless hand blender from the Cordless Collection gives you  the freedom to create with confidence. Blend wherever**, whatever, however you choose. 
Let's go.
Benefits at a glance
Blend efficiently anywhere
Unplug and unleash your creativity
Ergonomic and lightweight
Optimal runtime and performance
Variable speeds for control and flexibility
2-year limited guarantee included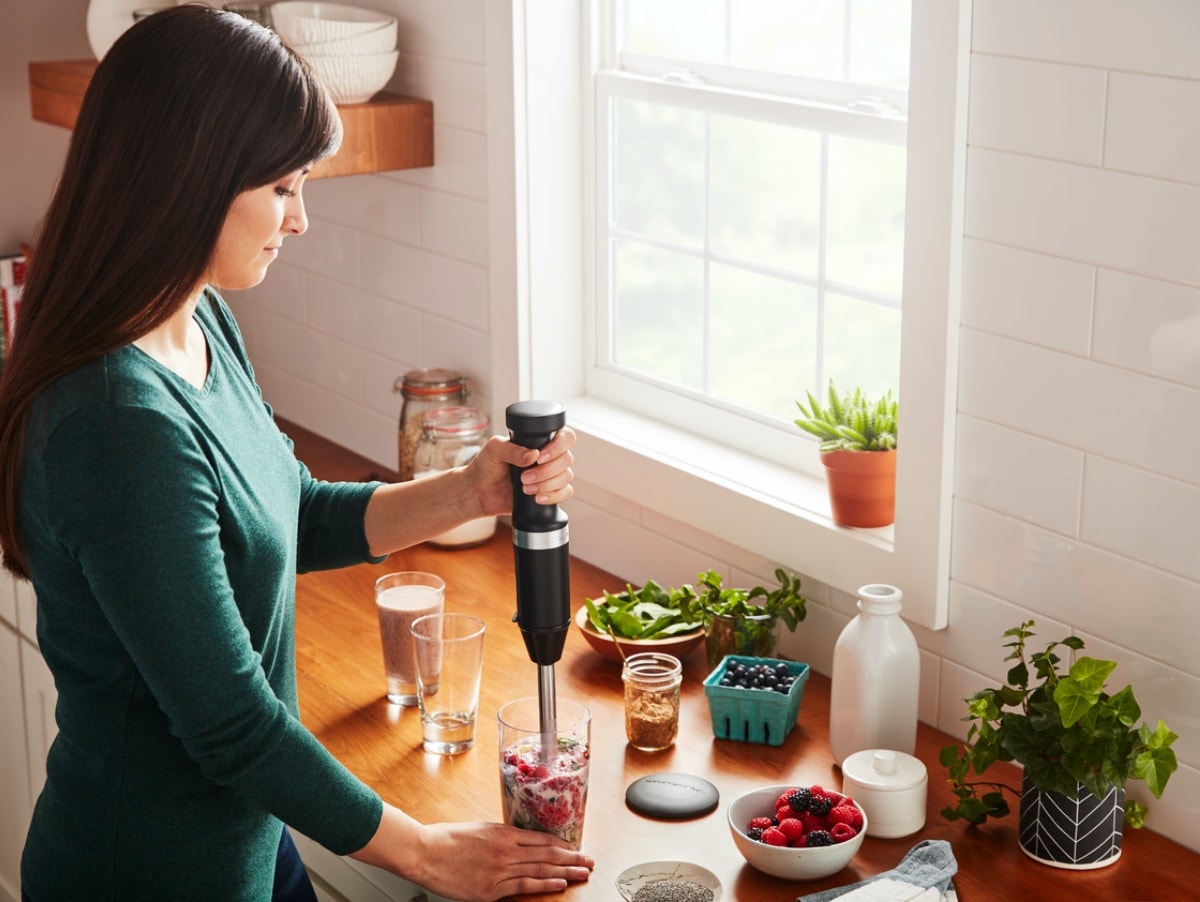 Cordless hand blender sets you free
Unleash your creativity and whiz up soups, milkshakes, sauces and other recipes
without being tied down.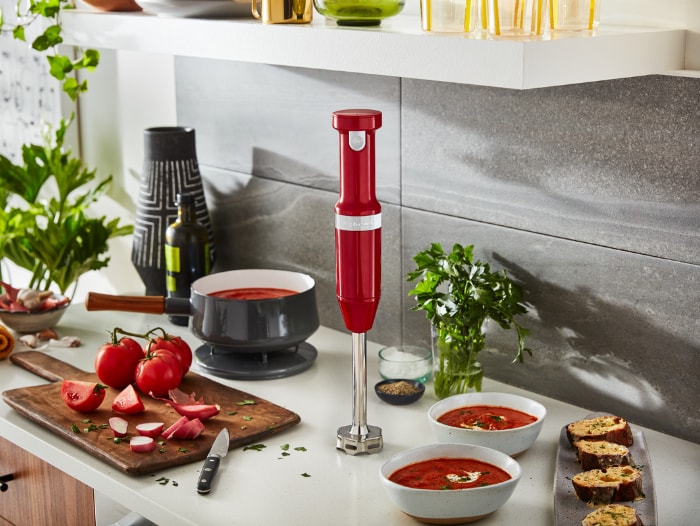 Compact and neat design
The sleek and lightweight design has no cord and allows for easy single-handed operation. It's dishwasher safe — because we know that cleaning isn't the fun part.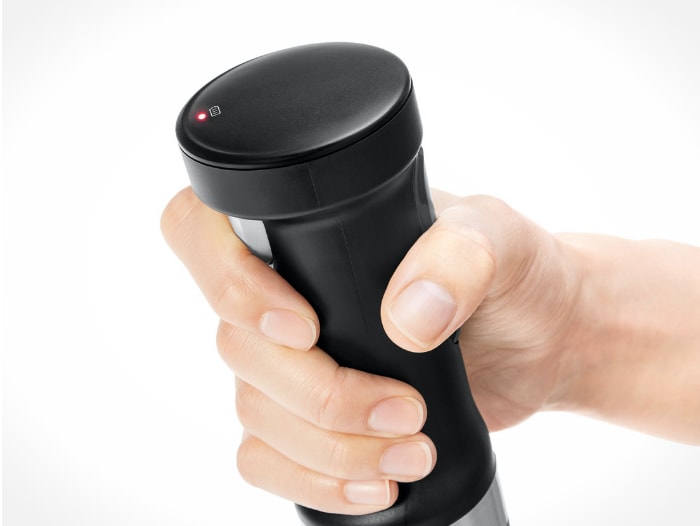 All the power you expect
The rechargeable Lithium Ion battery gives you optimal runtime and performance, charging from empty to full in 2 hours. A battery light lets you know when it's time to charge.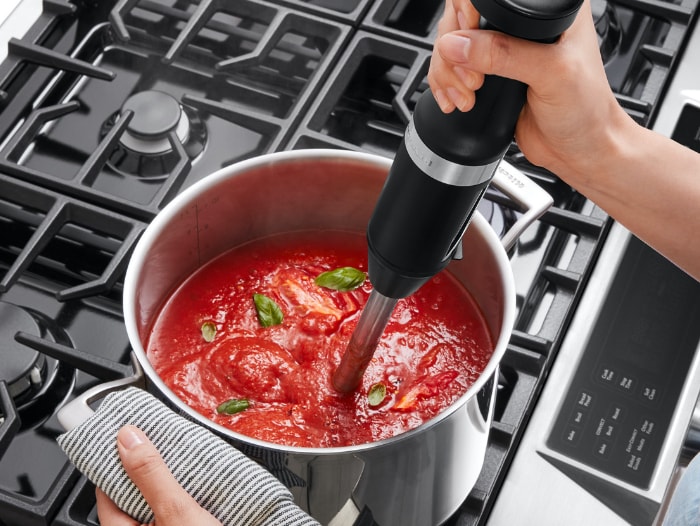 Save time with a quick charge
In a rush? Don't worry, you don't have to wait until it's fully charged every time. With a 20-minute charge, you can make a Triple Berry smoothie or Tomato Basil Soup.
(2)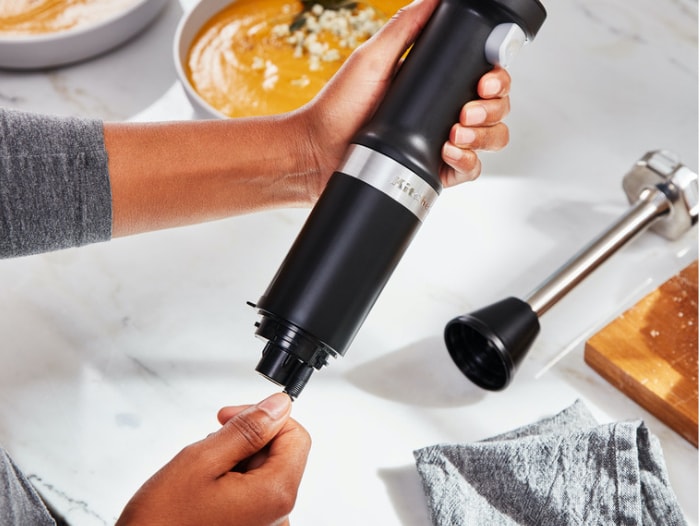 Variable speeds for control
The variable speed trigger switch, gives you greater flexibility and control over the recipe. Make smooth and fluffy light drinks and dishes, from desserts to scrambled eggs.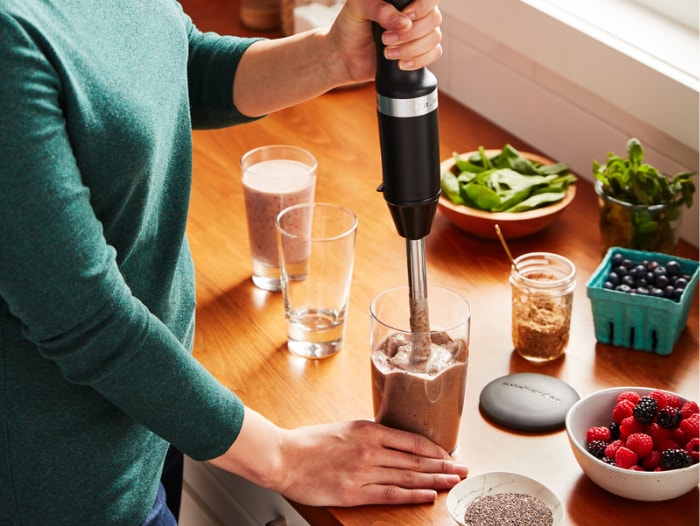 BPA free jar
Comes with its own blending jar with a lid, ideal for individual blending jobs, to serve or store. The 20,3 cm blending arm is also long enough to reach inside deep pots and pitchers.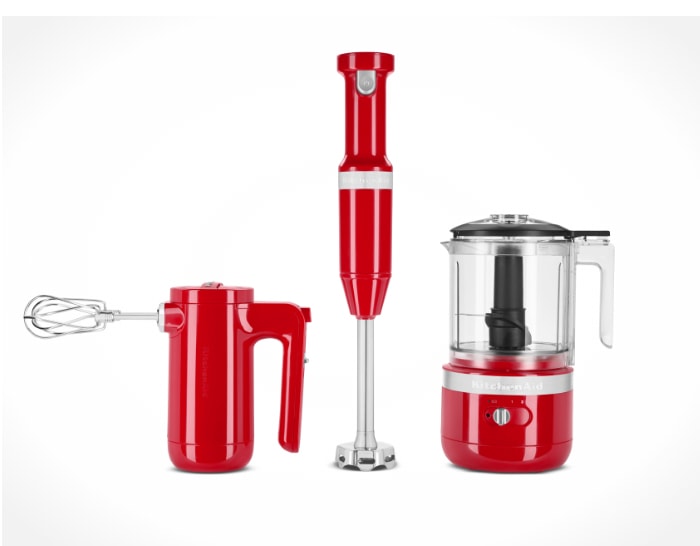 Complete Cordless Collection
The first Cordless Collection from KitchenAid includes the food chopper, hand blender and hand mixer. Each is sold separately and you can select a matching colour.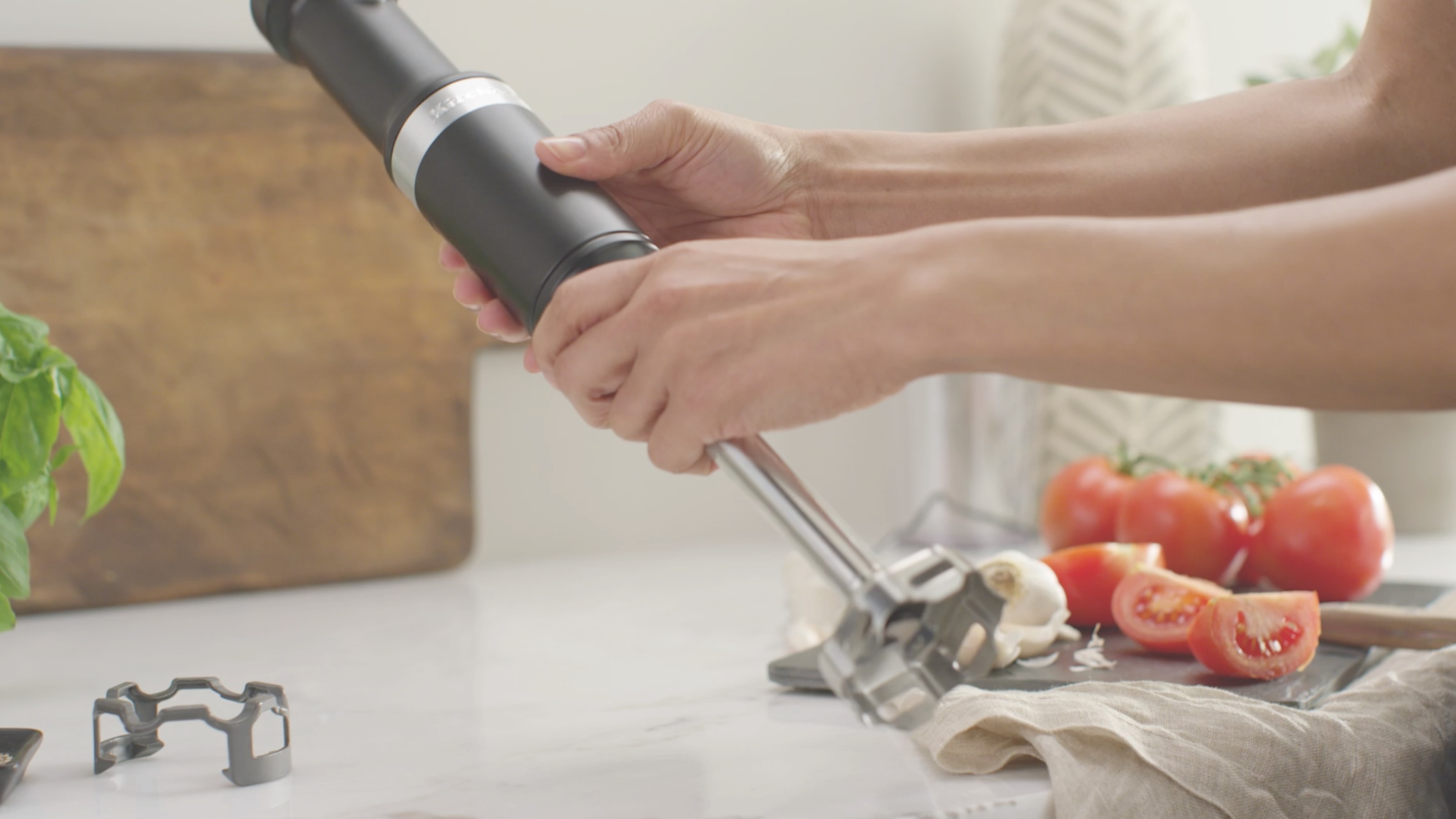 Feel free with the cordless hand blender
Follow your imagination with the cordless hand blender. From hummus to gorgeous pancakes or hearty soups … go wherever your ambition takes you. There's no stopping you now.
Efficiently blend anywhere
Lightweight and ergonomic
Variable speeds for control
Battery indicator light
Safety switch feature
Create all day, in your own way
Wake up to a frothy pineapple smoothie, enjoy pesto salad for lunch and then prepare an exotic soup for dinner. No matter where your ideas take you, the cordless hand blender makes it easy.
 
If you like to blend in your existing pots while you're cooking, there's a handy pan guard to protect your precious cookware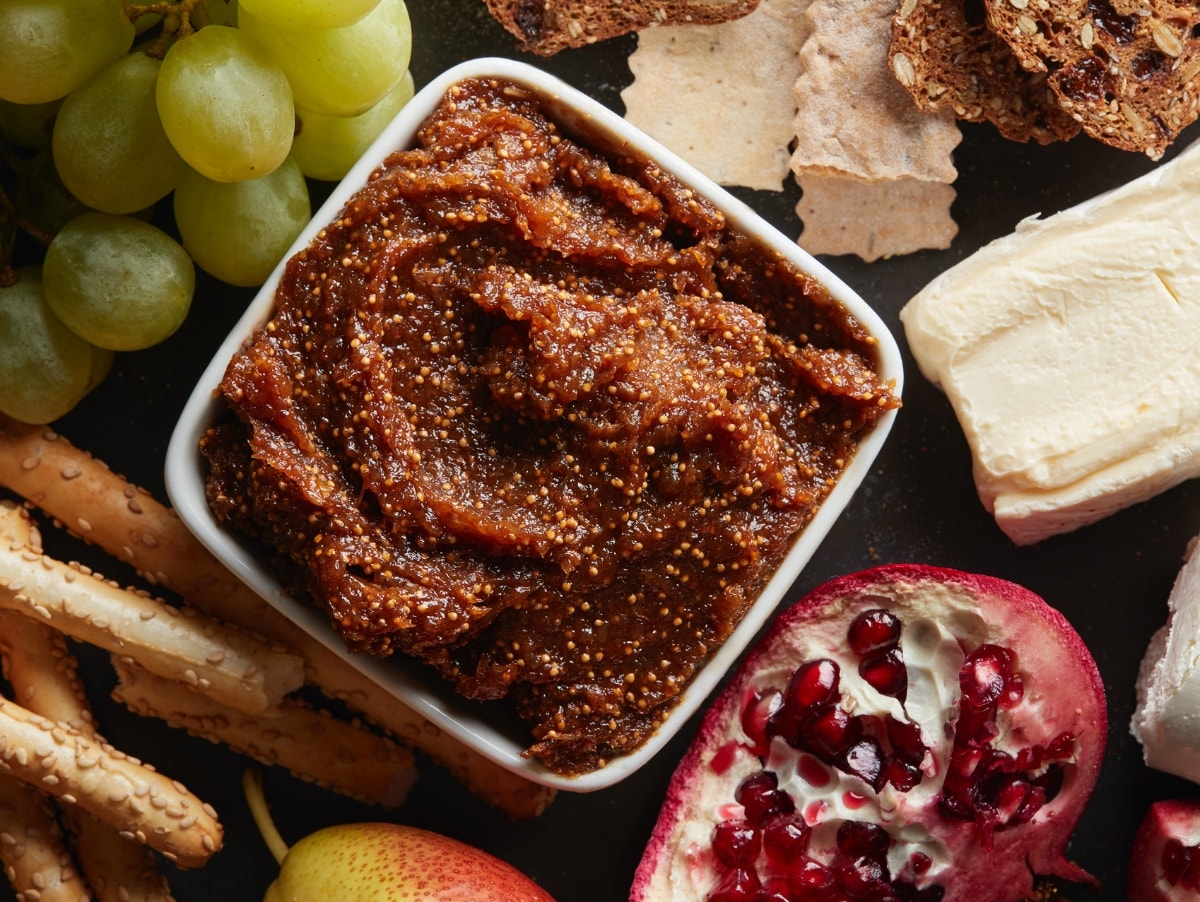 Control the final results
You can pick up the blender with one hand and control it with the variable speed trigger. Perhaps you like velvety smooth fruit purees or chunky meat soups — it's up to you.
 
Achieve the texture you desire with the cordless hand blender from KitchenAid.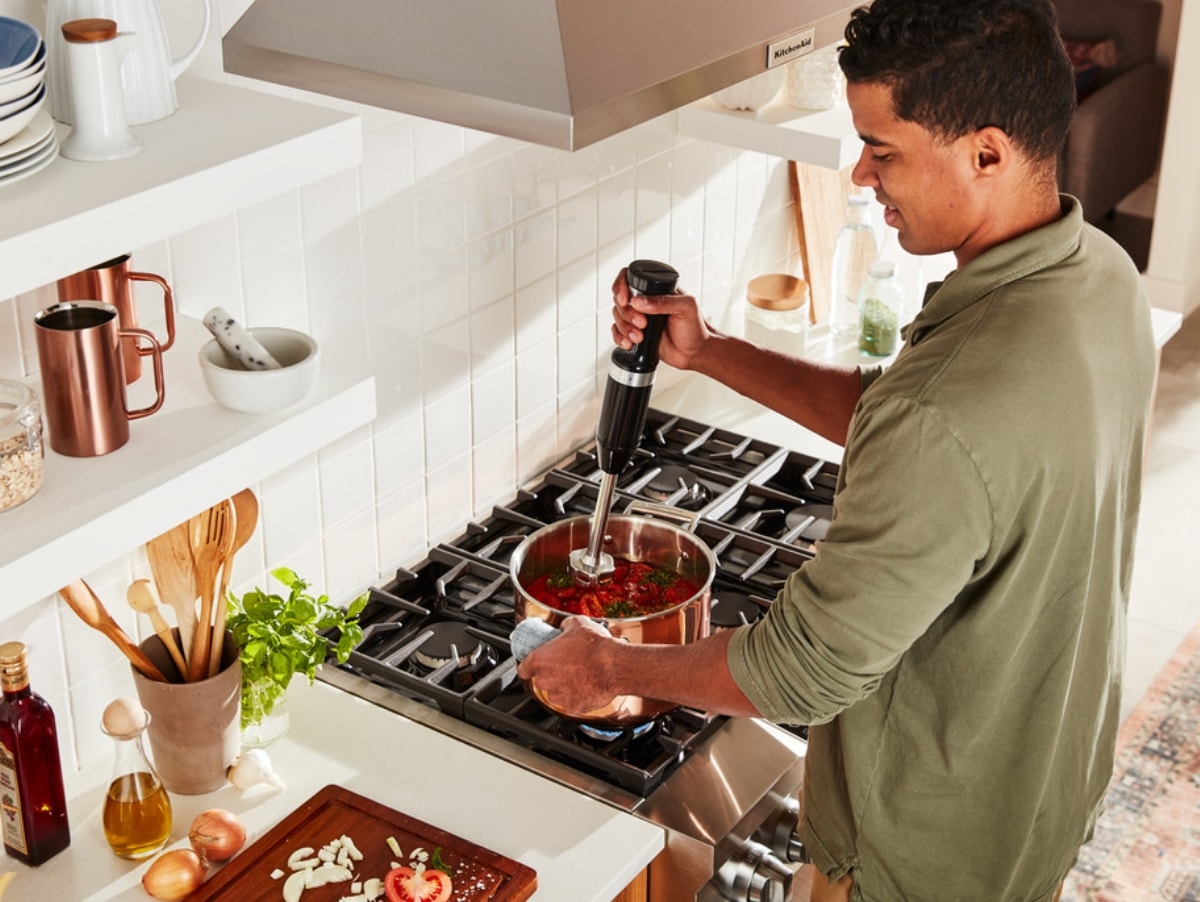 Enjoy cord-free creativity
There's nothing to hold you back once you decide to go cordless. Experiment with recipes, dip into pans and move freely around your kitchen space.
 
It's ergonomically designed to use with one hand and there's a safety switch to protect against accidental trigger movement.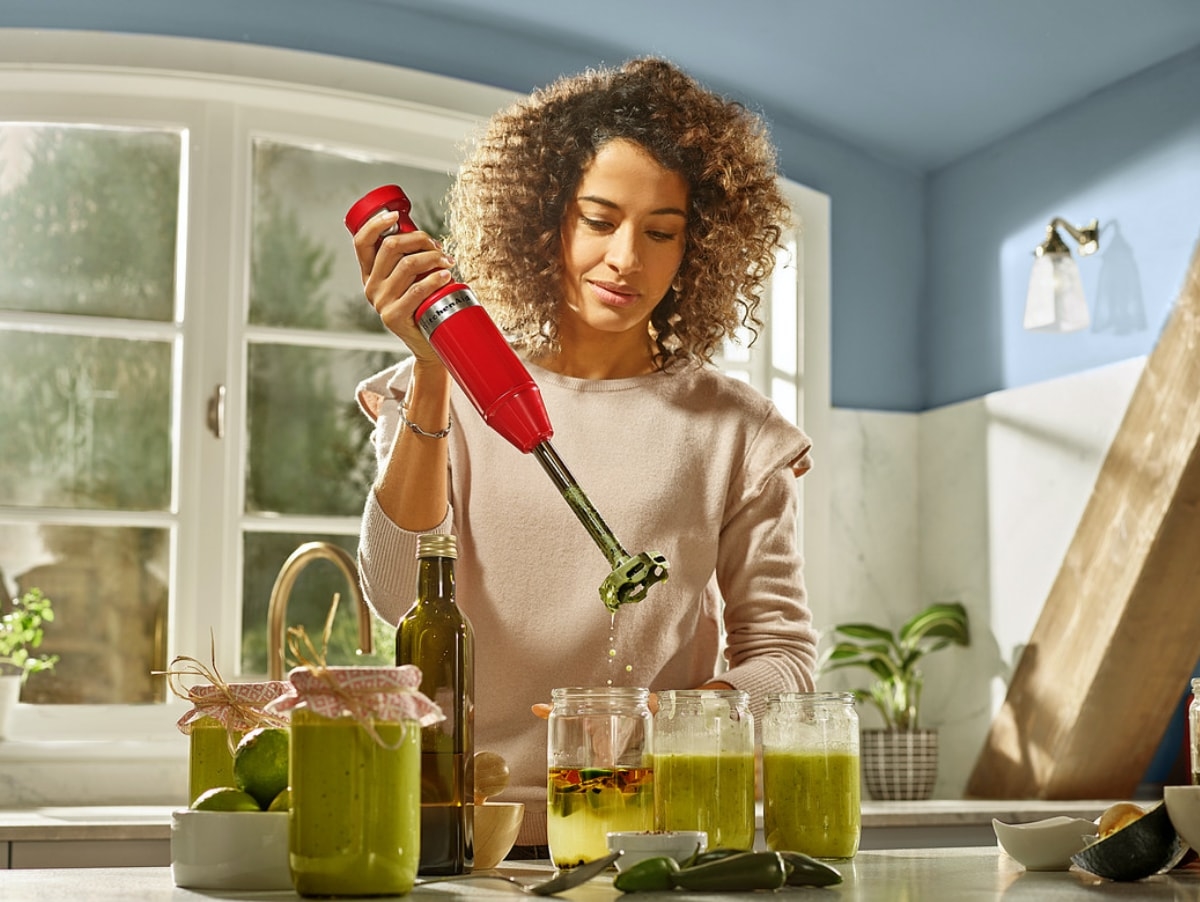 Stylish contemporary design
With its sleek lines and bold colours, the cordless hand blender brings you over 100 years of KitchenAid engineering with a fresh look.
 
Treat yourself to a matching suite in your favourite colour. The Cordless Collection also includes a food chopper and hand mixer, each sold separately.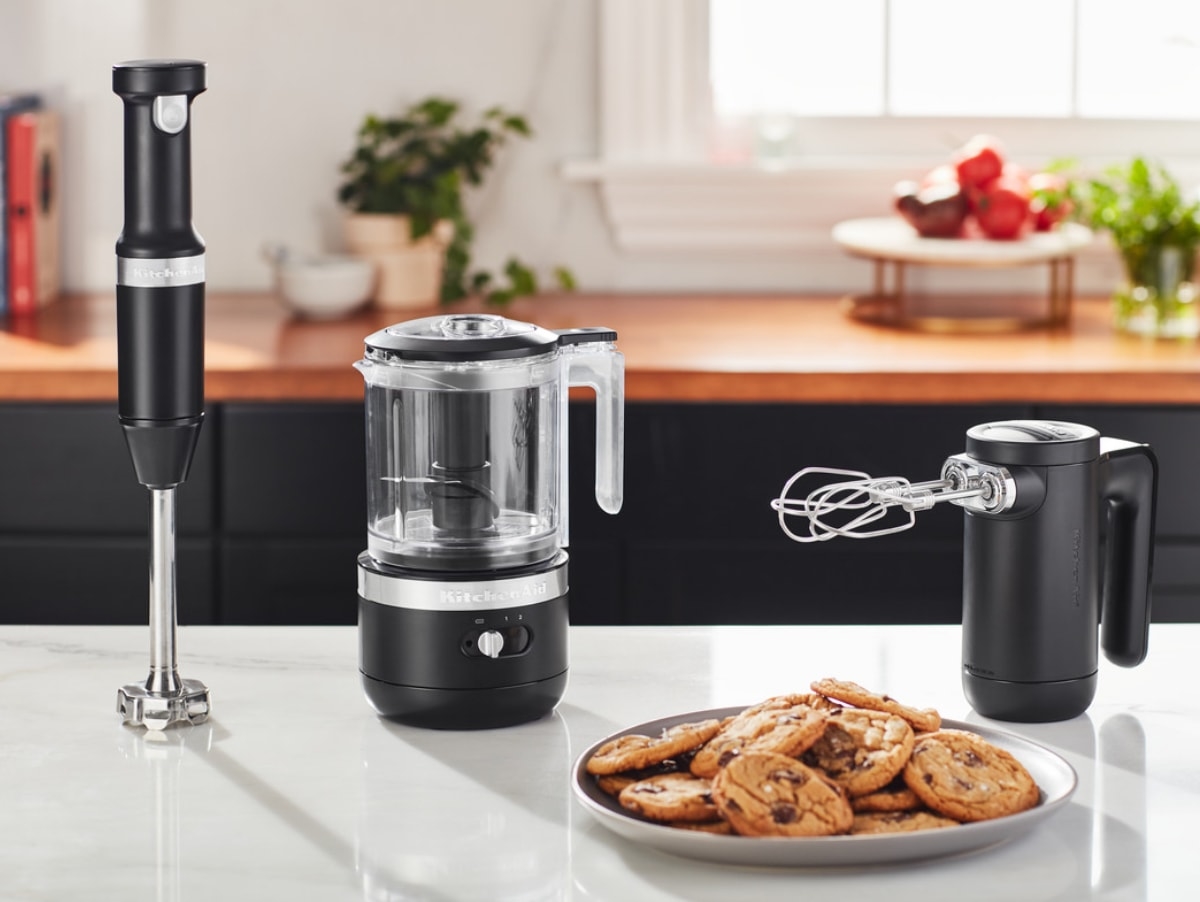 Cordless hand blender 5KHBBV53
Go where ambition takes you with the cordless hand blender from KitchenAid. It delivers all the power you expect, without the cord. Designed with a powerful rechargeable Lithium Ion battery, the cordless hand blender delivers optimal runtime and performance. You can make up to 25 bowls of soup* and the battery indicator light tells you when you need to recharge. Pick up the lightweight and ergonomic hand blender, designed to be used with one hand. There's a variable speed trigger switch to give you control over your creation and the safety switch protects against accidental trigger movement. Upgrade your kitchen with a matching colour suite. The Cordless Collection includes a food chopper, hand blender and hand mixer, each sold separately. The convenient charger is included and works on all products across the suite. *Based on 12 ounce bowls (354 ml), 7 batches, Tomato Basil Soup. **This product is not designed to be used outside.
SPECIFICATIONS
TECHNICAL SPECIFICATIONS
Electrical connection rating (W)

16

Frequency (Hz)

50/60

Voltage (V)

220-240

Bell Blades Speed RPM (min - max)

100-2300

Body material

Plastic

Stainless steel blades

Yes

Battery cell type

Lithium-Ion

Charger included

Yes

Charger output voltage

220-240

Optical charging indicator

Yes

Length of electrical supply cord (cm)

153

Height of the product

430

Width of the product

63

Depth of the product

63

Height of the packed product

431

Width of the packed product

115

Depth of the packed product

115

Gross weight (kg)

1.3

Net weight (kg)

1.1